Apple



Gender

Female

Team

Acromania (Ultimate Objects)
Team Epic (Inanimate Insanity)
Bright Lights (II2)

Episode eliminated

II: The Great Escape (244 votes)

II2: Everything's A-OJ (2045 votes)

Rank

6th (Inanimate Insanity), 14th (Inanimate Insanity II)

Friends

Paintbrush, TV (partly), Marshmallow

Enemies
Apple, labeled The Easily Forgotten, is a female recommended character by totaldrama23, who joined late in Inanimate Insanity after winning the paint gun contest in War De Guacamole and was placed on Team Epic. She returned for Inanimate Insanity II and was placed on Team Bright Lights.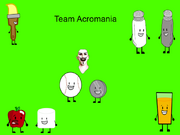 Fanfiction
Human Names
Alayna O'Keefe (BluJayPJ)
August Wakeman (Doomes.desean)
Abilene Thompson (NLG)
Alice Styles (KittyFan2004)
Abby Leslie (AlexAnimations0421)
Aemilia Gaspar (Opinduver)
Where Apple is from
Calgary, Alberta, Canada (BluJayPJ)
Oregon, Ohio (KittyFan2004)
Oylimpia, Washington (NLG343)
Lincolnshire, Illinois (Opinduver)
Birthdates
January 17, 1992 (BluJayPJ)
January 23, 2000 (LegoAdam324)
September 24, 1995 (NLG343)
July 20, 1994 (Opinduver)
December 3, 1991 (KittyFan2004)
Trivia
Apple appeared in various other object shows like Object Universe.
Apple has the 3rd most eliminated votes ever with 2045 votes.

The 2nd is Cheesy, with 2605 votes.
And now the 1st is Soap with 2663 votes.

She was also a contestant in Object Universe.
She started a rivalry with Marshmallow ever since she debuted in II. She got angry at her and Paintbrush for pretending to be Santa Claus in episode 9.

However, she then became friends with Marshmallow in II 2 episode 2.
Gallery