Battle for Candied Island



Country of Origin

Canada

Genre

Gaming

Youtube Channel

TheEnderRo's Channel

Creators

TheEnderRo (Nick Killson)

Continued By

TBA

Teams

TBA

Seasons

BFCI 1

TBA

Total Episodes

TBA/30 (Possibly)

No.Contestants

27 (From Start)
Battle for Candied Island (also known as BFCI) Is mega camp. with 27 OCs and Reccomended characters. "Candied Island" is based from The Marvelous Misadventures of Flapjack.
Challenge 1/Episode 1
1A -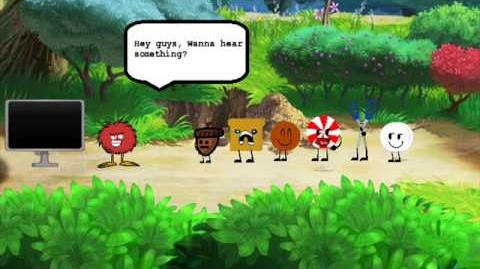 27 contestants signed up for 90 days in this Mega Camp Every 3 days they'll have to compete in New challenges, The losing team will have to eliminate/vote someone off. The Eliminated Contestants will be sent to the "Villanious Fridge".
Challenge 2/Episode 2
TBA
Cast
Aspirin - BeAwesomeOne2
Peppermint - KillaxCool
Keyboard - Slainender
PSP - Friesfan7844
Ribbion - MrDoubleTGAngster
Acorn - TheNickWatterson
Moustache - Jay28jay2
Meatball - rj3ful1
Ray Gun - MysteriousBFDIFan
Jelly - Nicholas Sternes
Scissors - Tacoburger22
Flash Light - 2000Mrpie
Xbox Controller - Spartanjuan Ramirez
Bucket - SuperCDLand
Reversed Yin-Yang - ToonPrince
Floopy - PLPokemon
Leg - Roston11
Heart - Justin Geeo
Jacob - YoyleJefferson
ButterFinger - KaraidsLair
Dodgeball - Jack Orange
Can - bowserjr2215
Abi - Celestia Productions
Cooler - DerpDino
Toasty - ThatSparkleGuy
Chairy - Sandro Shubitidze
Mexican Rocky - joaquint561
Elimination Table
#
Name 
Votes
Episode Eliminated
Place
Non-merged
1
Cooler
0
2A
27th