Battle for Ur Mama or BFUM for short is a BFDI camp made by theminecraftwolf9. It has 41 contestants, the BFDI and BFDIA cast plus 10 OC's. The hosts for the show is Final Four and 9. The contestants are competing for, you guessed it Your MAMA! To win they must compete in challenges and at the end of each challenge someone gets eliminated until the final 2 battle it out to win! It is a weekly camp.
Poses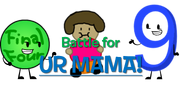 Here are the contestants poses and the hosts poses.
Elimination Chart
Here is the elimination chart.
| Name | User | Place | Team | Votes | Reason | Time in Game |
| --- | --- | --- | --- | --- | --- | --- |
| BackPack | MonsterGamer | | | | | |
| Blocky | James Curran | | | | | |
| Bomby | | | | | | |
| Book | | | | | | |
| Brownie | | | | | | |
| Bubble | | | | | | |
| Coiny | | | | | | |
| David | | | | | | |
| Dora | | | | | | |
| Diamond | | | | | | |
| Donut | | | | | | |
| Eraser | | | | | | |
| Firey | | | | | | |
| Flower | | | | | | |
| Fries | | | | | | |
| Gelatin | | | | | | |
| Golf Ball | | | | | | |
| Hanger | | | | | | |
| Ice Cube | | | | | | |
| Ladder | | | | | | |
| Lampy | | | | | | |
| Leafy | | | | | | |
| Match | | | | | | |
| Nickel | | | | | | |
| Needle | | | | | | |
| Pin | | | | | | |
| Pen | | | | | | |
| Pencil | | | | | | |
| PuffBall | | | | | | |
| Puppet | | | | | | |
| Rocky | | | | | | |
| Ruby | | | | | | |
| SnowBall | | | | | | |
| Spongy | | | | | | |
| StopWatch | | | | | | |
| Sunglasses | | | | | | |
| Tear Drop | | | | | | |
| Tennis Ball | | | | | | |
| Woody | | | | | | |
| Yarn | | | | | | |
| Yellow Face | | | | | | |