See BFDI wiki for detailed canon info.
Book



Gender

Female

Team

Outcasts (UO), Supernova (BFSP), FreeSmart (BFDIA), Squashy grapes (BFST), PI (BFDIFTTT), Bleh (BFB)

Rank

TBA for BFST and BFDIA (others objets show: I don't know...) Day, BFDIFTTT

Friends

Enemies

TBA
Book, (formerly known as Dictionary), is a female on Team Outcast. She is also on BFSP, and also is contestant on BFDIA and BFST.
Biography
In A Book's Story, Book was born after Paper was sacrificed. Pencil, the first object she ever meets, asks who she was. However, Book does not know who she was or where she was at.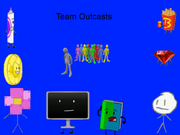 Fanfiction
Names
Booker Red Well Pages (TheTwistedMangle)(middle name a play on the word "well-read")
Brooke Torosian (BluJayPJ)
Birthdates
May 23, 1989 (BluJayPJ)
January 6, 1999 (ReddyHakky1998)
Where Book is from
Friday Harbor, Washington (BluJayPJ)
Ethnicity
Armenian, Israeli and Lebanese (BluJayPJ)
Names in other languages
책,사전 - Korean
Libro diccionario - Spanish
Livre dictionnaire - French
Książka, słownik - Polish
Sách - Vietnamese
Buch - German
Buku - Malay
本 - Japanese
Gallery
Ad blocker interference detected!
Wikia is a free-to-use site that makes money from advertising. We have a modified experience for viewers using ad blockers

Wikia is not accessible if you've made further modifications. Remove the custom ad blocker rule(s) and the page will load as expected.