Logo by InsanipediaObjectMadnessWiki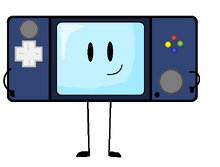 This camp has it's official wiki!
Gamey Battle is dead! Go to "Pickaxe Attack!" for the reboot!
Only InsanipediaObjectMadnessWiki can edit!
This camp was going to be called "Golf Ball Battle" but where is the love for Gamey?
Welcome to Gamey Battle. The sign ups are currently open, so please submit your Gamey in the comments!
List of Gamies
Recommended Gamies
You can recommend a Gamey at anytime. You can do multiple recommended Gamies if you want to. If you signed up your Gamey, it's still possible to recommend a Gamey.
Teams
Intro
Episodes
Ad blocker interference detected!
Wikia is a free-to-use site that makes money from advertising. We have a modified experience for viewers using ad blockers

Wikia is not accessible if you've made further modifications. Remove the custom ad blocker rule(s) and the page will load as expected.