See BFDI wiki for detailed canon info.
Leafy



Gender

Female

Team

Islanders

Epicka Drużyna (OA)

Allies

Rank

TBA (Object Theater)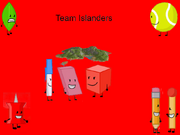 Leafy, is a female on Team Islanders in Ultimate Objects, but switched teams with Paintbrush in Episode 2. Leafy is an original BFDI contestant. She was the team captain of the Squashy Grapes, getting her first vote in Episode 10. She is commonly known as the original overly nice character, going out of her way and even giving up immunity to help others. She made it to the finale, being one of three contestants to never enter the TLC (along with Bubble and Firey) and one of five contestants to never have a chance of rejoining the game (along with Bubble, Firey, Rocky, and Ice Cube). In the end, she placed second, and was the only contestant Firey didn't allow on Dream Island. She stole Dream Island as revenge, but was saved from execution by Firey. Leafy is also a contestant in This Way Out Official's Object Theater.
Fan fiction
Names
Leanne Antoniou (BluJayPJ)
Letica Fransisco (NLG343)
Trivia
After the finale of BFDI, most of her friends have became her enemies, due to her stealing Dream Island.
There IS a game called Leafy.exe, where Leafy is usually the person chasing a few of the contestants.
Gallery
Names in other languages
Lá cây - Vietnamese
ใบไม้ - Thai
Yaprak - Turkish
リーフィー - Japanese
Листовой - Russian
Frondoso - Spanish
Ad blocker interference detected!
Wikia is a free-to-use site that makes money from advertising. We have a modified experience for viewers using ad blockers

Wikia is not accessible if you've made further modifications. Remove the custom ad blocker rule(s) and the page will load as expected.