See BFDI wiki for detailed canon info.
Leafy



Gender

Female

Team

Islanders

Epicka Drużyna (OA)

Squashy Grapes (BFDI)

BEEP (BFB)

Allies

Katty, Kitty, Windows Logo, Error, Nyan Cat, Firey (possible love interest), Bubble (One-sided), Pin (Before Episode 25), Needle, Announcer (One-sided)

Rank

TBA (Object Theater)

4th (BFDIA [606 votes to join])

18th (BFDI [Age1135's Way])

2nd (BFDI)

63rd (BFB) (returned in BFB 11)

Episode Eliminated

BFDI: Return of the Hang Glider (236 Votes to Win)

BFDI (Age1135's Way):Sweet Tooth

BFB: Why Would You Do This on a Swingset

Enemies

Blocky, Announcer (One-sided), Bubble (One-sided), Pin (After Episode 25)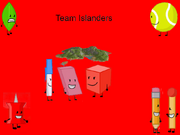 Leafy is a female on Team Islanders in Ultimate Objects but switched teams with Paintbrush in Episode 2.
Leafy is an original BFDI contestant. She was the team captain of the team known as the Squashy Grapes, getting her first vote in Episode 10. She is commonly known as the original overly nice character, going out of her way and even giving up immunity to help others. She made it to the finale, being one of three contestants to never enter the TLC (along with Bubble and Firey) and one of five contestants to never have a chance of rejoining the game (along with Bubble, Firey, Rocky, and Ice Cube). In the end, she placed second and she was the only contestant Firey didn't allow on Dream Island. She stole Dream Island as revenge but was saved from execution by Firey.
Leafy wasn't a contestant in BFDIA due to being in Yoyleland (During the beginning of BFDIA 1), but she is a contestant in BFB until her elimination in BFB 3. is also a contestant in This Way Out Official's Object Theater.
Fan fiction
Names
Leticia Fransisco (NLG343)
Leah Solak (Opinduver)
Lacey Kennard (KittyFan2004)
Lori Pentland (Eggs on Toast)
Lacey Monahan (Ze Tossere)
Religion
Baptist (KittyFan2004)
Leafisit ( ͡° ͜ʖ ͡°)
Where is From
Golden Glades, Florida (KittyFan2004)
The Blue Mountains, Ontario, Canada (Eggs on Toast)
Birmingham, England (Ze Tossere)
Birthdate
July 16, 1985 (KittyFan2004)
June 28, 1990 (Eggs on Toast)
September 30, 1986 (Ze Tossere)
Object 12
After getting the alien, Wildvine, Leafy was free like a normal leaf soaring around the sky. Plus, was good at cooking. It was shown in Chapter 3
Trivia
After the finale of BFDI, most of her friends have become her enemies, due to her stealing Dream Island.

Although in BFB she is seen to be friends with a lot of characters in the show.

There is a game called .exe, where is usually the person chasing a few of the contestants.
Many BFDI fans believe that has a crush on Firey
Many fans think that is the mother of Firey Jr. because they think that she had a crush on Firey and later she's mother and Firey is the father
Maybe, is the only contestant that can cook tacos.
Gallery
Names in other languages
Lá cây - Vietnamese
ใบไม้ - Thai
Yaprak - Turkish
リーフィー - Japanese
Листовой - Russian
Hojita - Spanish
עלה - Hebrew
Liść-Polish
Foglia/Fogliolina - Italian