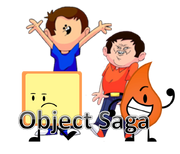 Do not edit without any permission! It's annoying to me when people edit without permission.
About Object Saga
Object Saga is a camp created by Rhinobuddroblox on Youtube. The 37 contestants that didnt make it into BFDIA and the Announcer Speaker Box fight for the real and only Dream island.
Elimination Table (W.I.P)
Contestant:
Team:
Status:
Votes:
Reason:
Rank:
Rejoined?:

Pen

CJ MacCool

N/A
N/A
N/A
N/A
N/A
N/A

Blocky

Whaijay

N/A
N/A
N/A
N/A
N/A
N/A

8-ball

Bowserjr2215
Poses
Poses of the contestants in Object Saga!
Assets/Cool Thingys
Some stuff you may not have or missed.
Ad blocker interference detected!
Wikia is a free-to-use site that makes money from advertising. We have a modified experience for viewers using ad blockers

Wikia is not accessible if you've made further modifications. Remove the custom ad blocker rule(s) and the page will load as expected.