Object Ultraverse now has its own wiki, and a page on The Brown Family Wiki, so go and help it out!
Very Important Note: DON'T EDIT THIS! ONLY BROWNFAMILY1108 CAN EDIT!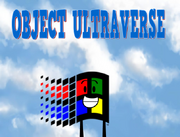 Object Ultraverse is an upcoming object show made by BrownFamily1108. This show is quite similar to Object Crossovers and Object Multiverse, but Object Ultraverse is slighty different.
Plot
Many contestants go through one epic adventure for 25 million dollars. Once enough contestants are eliminated, the merge happens. The quest for the top prize will not be easy.
NO Threats or Rude Comments!
NO Spamming!
NO Inserting False Information!
NO Curse Words, Swearing, Obscene Language, or Profanity of any sort! (Unless it's abbreviated, also it's okay to say "crap")
NO Crude Pictures! (For example of porn or images that are harmful to children)
NO Vandalism! Even in the comments!
Do NOT edit this page, unless you have permission!
Do NOT waste a character's personality!
NO Smelling Socks In The Toilet!
Strikes (If you get 100 strikes and you're out)
Staff
Contestants (for the poses, click here)
Blocky
Bomby (Voiced by Simon)
Book
Bubble
Coiny
David
Donut (BFDI)
Dora (Voiced by Spanish Google Translate Voice) - ELIMINATED in Episode 2
Eraser
Evil Leafy
Firey
Flower
Fries
Gelatin
Golf Ball
Ice Cube
Leafy
Match
Needle
Pen
Pencil
Pin
Puffball (Voiced by Princess)
Rocky
Ruby (BFDIA)
Snowball
Spongy
Teardrop (Does not speak)
Tennis Ball
Woody
Yellow Face
8-Ball (BFDI) (Voiced by Brian)
Balloony (BFDI)
Barf Bag (BFDI)
Basketball (BFDI)
Bell (BFDI)
Black Hole
Bracelety (BFDI)
Cake (BFDI)
Candy (BFDI)
Cheez-It
Clock (BFDI)
Cloudy (BFDI)
Eggy (BFDI)
Fanny (BFDI) (Voiced by Steven)
Fries (BFDI RC)
Grassy (BFDI)
Lego Brick
Lightning (BFDI) (Voiced by Kidaroo)
Lollipop (BFDI)
Marker (BFDI)
Naily (BFDI)
Nickel (BFDI RC)
Nonexisty
Pie (BFDI)
Pillow (BFDI)
Remote (BFDI/OAW)
Robot Flower
Roboty (BFDI)
Ruby (BFDI RC)
Saw (BFDI)
Taco (BFDI)
TNT (BFDI)
Tree (BFDI)
Tune (BFDI)
TV (BFDI)
Waffle (BFDI)
Balloony (IDFB)
Barf Bag (IDFB)
Basketball (IDFB)
Bottle (IDFB)
Bracelety (IDFB)
Cake (IDFB)
Cloud (IDFB)
Eggy (IDFB)
Fanny (IDFB) (Voiced by Steven)
Gaty
Lightning (IDFB) (Voiced by Kidaroo)
Lollipop (IDFB)
Marker (IDFB)
Naily (IDFB)
Pie (IDFB)
Pillow (IDFB)
Remote (IDFB)
Roboty (IDFB)
Saw (IDFB)
Taco (IDFB)
Tree (IDFB)
TV (IDFB)
Apple
Balloon (II)
Baseball (II)
Bomb
Bow
Box (II)
Cheesy
Cherries (II)
Dough
Fan
Knife
Lightbulb
Marshmallow
Microphone (II)
Nickel (II/BFDIA)
OJ/Orange Juice
Paintbrush
Paper
Pepper
Pickle
Salt
Soap (II)
Suitcase (Voiced by Princess)
Taco (II)
Test Tube
Tissues
Trophy (II)
Yin-Yang
Banana (II)
Bell (II)
Cookie (II)
Guitar
Magnifying Glass
Pop-Tart
Rubber Ball
Spikey Mervert
Teddy Bear
Bouncy Ball
Burrito
Button
Camera (OM)
Cupcake (OM)
Dice
Donut (OM)
Gun
Ice Cream (OM)
Jigsaw
Lego
Mailbox
Mirror (OM)
Notebook (OM)
Phone
Sharpener
Toast
Tune
Credit Card (OM)
Cup (OM)
Dollar (OM)
Flower Pot
Headphones
Joshua (OM)
Ribbon
Boombox (OO)
Boxing Glove
Candy (OO)
Casey
Cherries (OO)
Clock (OO)
Coney
Crayon (OO)
Disc (Voiced by David/Evil Genius/Zack)
Dusty
Fly Swat
Globe (OO)
Kite
Lighter (OO)
Locky
Marble
Masky
Melony
Paper Airplane
Pearly
Picture
Ping Pong Ball (Voiced by Paul)
Popcorn
Snowglobe
Soccer Ball (OO)
Television
Tiki
Tissue
Toaster (OO) (Voiced by Kidaroo)
Toothy
Top Hat
Camera (OI)
Conditioner
Cookie (OI)
Cup (OI)
Fire Axe
Gumball (OI)
IPad
Lemon (OI)
Orange (OI)
Oreo
Police
Pudding Cup
Quadratini
Remote (OI)
Sandwich
Shampoo
Strawberry
Watermelon
Alarm Clock
Beach Ball (BFIS)
Bowling Ball (BFIS)
Brownie
Bugspray
Camera (BFIS)
Candle (BFIS)
Carrot (BFIS)
Computery
Dodecahedron
Eggy (BFIS)
Febreze
Lamp (BFIS)
Lemonade (BFIS)
Napkin
Radio
Rubber
Sunscreen
Thread
Basketball (OH)
Binder
Bucket (OH)
Bullet
Carrot (OH)
Gold
Hammer (OH)
IPod
Jet Engine
Lamp (OH)
Lighter (OH)
Mirror (OH)
Nail (OH) (voiced by Kayla)
Plank
Plate
Stick
Volleyball (Voiced by Kate)
Wheel (OH) (Voiced by Steven)
Ice Cream (OU)
Luigi Hat
Mario Hat
Party Hat
Yo-Yo (OL)
Banana (SOB/OLD)
Berry
Action Replay
Apple Juice/AJ (OT)
Star Coin
Notey
Yellow Spider
Bubble Tea
Churro
Lollipop (NTT)
Magnet (NTT)
Peanut
Steak
Waffle (NTT)
Yo-Yo (NTT)
Baguette
Boat
Chocolatey
Hot Dog
Pear (BOTO)
Popsicley
Scissors
Shelly
Shieldy
Slurpy
Glasses (MI)
Amethyst
Avocado
Battery
Electroball
Eye Drops
Flashlight (OT)
Football (OT)
Frying Pan
Lily Pad
Mayonnaise
Napkin Dispencer
Z
Perfume (NTT/BFG)
Seashell
Blueberry Juice/BJ
Chicken Bucket/KFC Bucket
Xylophone
Umbrella (SOB/OLD)
Rocket
Rubik's Cube (OU/OT)
Airhorn
Cupcake (TTW)
Boombox (BOTO)
Pinecone
Basketball (OU)
Bottle (OU)
Cup (OU)
Map
Remote (OU)
Tennis Racket
Badge
Butter
Mii U
Tetris Block
Cigarette
Shoe
Brick (Voiced by Wiseguy)
Candle (NTT)
Remote (NTT)
Beaker
Banana (CTW)
Candy Cane
Fat Alien
Umbrella (CTW)
Cola Can
Kool-Aid
Acorn
Balloon (SOB/OLD)
Hot Sauce
OKO Tower
3DS
Baseball (OU)
USB
Football (OMN)
Latte
Penny (OMadness)
Tack
Asteroid
Box (CTW)
Camera (CTW)
Hammer (CTW)
Key (CTW)
Melon (CTW)
Microphone (CTW)
Rainbow
Star (CTW)
Wheel (CTW)
Bottle (SOB/OLD)
Cherry (SOB/OLD)
Cone
Dollar and George
Grassy (SOB/OLD)
Limey (SOB/OLD)
M&M
Milky
Pumpkin (Note: This is the Pumpkin from SOB/OLD, not the OO Pumpkin)
Stop Sign
Teapot
Globe (OU/OTV)
Propeller Hat
Whistle (OU/OTV)
Glue (TSFTM)
Gum (Note: This is Gum from Object Craziness, not the Gum from Next Top Thingy)
Gum Bally
Banana (MI)
Beanie
Blueberry
Crayon (MI)
Girder
Lexicon
Lightning (MI)
Lip Gloss (Voiced by Susan)
Speaker
Surround
Lollipop (OP)
Blood Jar
Braixen Head
Dress
Ferrari Logo
Ford Logo
Mario Mustache
Skirt
Washington Monument
Pizza
Bucket (SOB/OLD)
Can
Circle
Diamond
Moon
Notebook (SOB/OLD)
Paint Palette
Snowboard
Sun
Skateboard
Yarn
Cough Drop
Cubey
Broccoli
Grape (voiced by Eric)
Lemon Sherbet
Asthma Inhaler
Atlas
Baseball Cap
Cracker
Big Orange Chicken
Silver Star Coin
Banana (TSFTM)
Beach Ball (TSFTM)
Burger
Candle (TSFTM)
Cherry (TSFTM)
Hammer (TSFTM)
Hearty (TSFTM)
Key (TSFTM)
Present
Ruler
Soap (TSFTM)
Toilet Paper
Tomato (TSFTM)
Traffic Light (TSFTM)
Trophy (TSFTM)
Tulip
Wardrobe
Deodorant (Voiced by Alan)
Tangerine
Firework
Candle (BFCR)
Crayon (BFCR)
Pawny
Soda (BFCR)
Bowling Ball (TTW)
Carrot (TTW)
Coffee Bean
Gumdrop
Lemon (TTW)
Mr. Lion
Tissue Box
Hula Hoop
Nacho
Lava Lamp - ELIMINATED in Episode 2
Toy Tank
Food Coloring
Gear
Moneybank
Sign
TNT (OInsanity)
Doodle
Ornament (AA)
Icicle
Chatterbox
Lemonade (OP)
Bagel
Cleaver
Hourglass
LSU Book
Balloon (OU)
Button (OU)
Disco Ball
TV (OU)
Wells Fargo Center
Pine Tree
Immunity Token
Win Token
Credit Card (TFFS)
Gamey (Note: Not the Object Overload Gamey, but the OC made by GameyAnimations.)
Ice Cream Cake
Ketchup
Mustard
Gourd (Note: If you don't know who Gourd is, he's from Way to Win)
Airport Control Tower
Ice Cream (TTW)
Paper Cup
Wiimote
Soccer Ball (TOMGR)
Envelope
Marker (TTW)
Pear (TTW)
Trash Can (TTW)
Domino (NTT)
Foam Finger (If you don't know who Foam Finger is, he's from Battle for Champions Resort)
Pancake
Glass
Perfume (OInsanity)
Water
Candy Corn (MI)
Scroll
Toadstool
GO-JEK Logo
Bag
Basketball (PP)
Chainsaw (PP)
Chip
Cup (PP)
Flashlight (PP)
Fridge
Glassshard
Gong
Melon (PP)
Mirror (PP)
Pan
Post-It Note
Shuriken
Slipper
Toothbrush
Blanket
Breadcrumb
Candle (TOMGR)
Candy Corn (TOMGR)
Cuppy
Glove
Gluey
Hammer (TOMGR)
Highlighter (TOMGR)
Jelly Bean
Lantern
Lemon (TOMGR)
Lightswitch
Limey (TOMGR)
Mouse
Orange (TOMGR)
Pepperoni
Potato
Pumpkin Spice Latte
Saxophone
Soda (TOMGR)
Strawberry (TOMGR)
Toaster (TOMGR)
Toothbrush (TOMGR)
Tomato (TOMGR)
Wheely (TOMGR)
Acorn (MI)
Boombox (MI)
Bush
Violet
Tornado
Peral Pan
Bottle (OFFVI)
Mushroom
Folder
Quilt
Softball
Microwave
Gumball (OL)
Pickle Jar
Axe (OB)
Cookie (OB)
Crystal (OB)
Cup (OB)
Dodgeball
Dollar (OB)
Easter Eag
Flashlight (OB)
Gameboy
Glasses (OB)
Highlighter (OB)
Knob
Lollipop (OB)
Maraca
Penny (OB)
Sharpener (OB)
Sticker
Brain (OG)
Shower
Trash Can (ROBR)
Leaf
Bubble Wand (Voiced by Princess)
Chalky (SOTC)
Function
Hex
Marker (SOTC)
Rubik's Cube (SOTC)
Hearty (OC)
Backpack
Bucket (WTW)
Chalky (WTW)
Computer Mouse
Glue (WTW)
Hammer (WTW)
Handbag
Magic Scepter
Shovel (WTW)
Smoothie
Soda (WTW)
Grill Lighter
Haloy
Hot Air Balloon
Journal 3
Monocley
Spanish Book
Vane
Axe (AI)
Birdhouse
Butter Knife
Cashy
Cauliflower
Cheese Grater
Clover
Guacamole
Lettuce
Netty
Petroleum Drop
Smoked Sausage
Sour Cream
Tongs
Whiffle Ball
Yoyleberry
Plum
Pistol (Note: If you don't know who Pistol is, he's from Object Adversity)
Rampy
Signy
Blue Circle
Gold Square
Grey Hexagon
Green Ball
Indigo Triangle
Orange Rectangle
Red Circle
Lunchbox (AA)
Door
Broomer
Click
English Muffin
Micro
Muffin
SharkBearBerry
Ball
Bird
Board
Bowl
Coaster
Crystal (OFI)
Dollar (OFI)
Dr. Lemon
DS
Face
Frisbee
Jack
Key (IFO)
Lightning Bolt
MP3
Soda Can
Star (IFO)
Sword
Triangle (IFO)
Seed
Chalice
Gluestick
2-Liter
Cereal Box
Check Book
Electric Iron
Gasoline
Manga
Rice Hat
Taffy
Tuna
Vote
Webcam
Brown Rectangle
Compass
Drummy
Hammer (OSI)
Jarry
Loggy
Lemon (OSI)
Lime
Pillowy
Screwdriver
Shovel (OSI)
Sugary
Yarny
Mr. T
Chainsaw (IOM)
Poison (EEE)
Nail (BFDK)
Poison (BFDK)
Traffic Light (BFDK)
Card
Cotton Ball
Lose Token
Stinky Cheese
Cassette
Floppy Disk
Garlic
Witch Hat
Carrot (Inanimations)
Blackcurrent
Glove
Jacket
Purse
Bloodshot Arrow
8-Ball (OFFVI)
Banana (WOTO)
Mint (WOTO)
Kitty
Funnel (AI)
Hammock
Protractor
Bucket (BFCK)
Lucky
UFO
Tranquilizer Gun
Phone (OOppose)
Pea (Note: If you don't know, He's from Anthropomorphic World)
Toy Box
Lemonade (BFCK)
Mango (Note: This the Mango from Battle For Cake Kingdom, not the Mango from Excellent Entitles)
Pink Lemonade
Coloring Book
Cola
Crayon (OL)
Cheese
Tree (OInsanity)
Triangle (OInsanity)
Buttery
Cloud
Snot Bubble
Cooper (Note: If you don't know who Cooper is, he's from Inanimate Objects)
Sriracha
4-Ball
Blender
Fruit Punch
Peppermint
Apple Juice/AJ (BFCR)
Marbley
Popsicle
Radio (BFCR)
Spray Can
Stopwatch
Puppet
Tokey
Clay
Biscuit
Button (He is NOT my OC, he belongs to CrazyFilmmaker)
Notepad (He is NOT my OC, he belongs to SuperPlusle) (He's not the Object Redundancy Notepad either.)
Swabby (She is NOT my OC, she belongs to SuperPlusle) (She's not the Object Land Swabby either.)
Fingerprint
Beer
Magazine
Skittle
Stapler
Trowel
Wallet (OTerror/MLO)
Flasky
Fork
Lemon (OT)
Lime (OT)
Mr. Swag
Scribbles
Soapy
Spoon
Varsity Jacket
Broken Heart
Clipboard
Earmuffs
Padlock
Ruler (AA)
Siren
Thermostat
Whistle (AA)
Flipnote
Soup
Wallet (BFDK)
Boulder
CD
Cracker (BFDK)
Crystal Heart
Lunchbox (BFDK)
Palette
Cable Box
Candle (TA)
Card Box
Salami
Wild Card
Wire Cutter
Tufty
Brain (BFAW)
White Pumpkin
Video Brinquedo Logo
Computer Screen
Dark Hat
Arch
Cactus
Carpet
Coffee Cup
Fart
Mint (OTerror)
Paint
Plug
Recycle Bin
Road Sign
Whipped Cream
Cocktail
Fish Food
Magnet (OInsanity)
Pickaxe
Stamp
Tea
TV (OV)
Balloon (OL)
Bowling Ball (OL)
Lollipop (OL)
3 Card
Sparkling Water
Yogurt (WTW)
Dorito
Pawn
Blue Raspberry
Lollipop (OIsland)
Dart
Building Blocks
Computer
Crumpet
Dime
Exit Sign
Habanero
Keyboard (Note: If you don't know who Keyboard is, she's from Object Pandemonium)
Mortar
Ornament (OPandemonium)
Pestle
Pocky
Scratching Post
Sombrero
Star Block
Trumpet
Yogurt (OPandemonium)
Bottle Cap
Strawberry (SB)
Beach Ball (Inanimations)
Corny
Torch (Inanimations)
Ashtma Inhaler (BOTD)
Clapboard
Paint Hat
Ring (Note: If you don't know who Ring is, She's from Object Adversity.)
Chef Hat
Dollar (BOTD)
Food Coloring (BOTD)
Honey
Jarry (BOTD)
Toppy
Glowstick
Gumdrop (OA)
Magic Wand
Missle
Mitten
Snow Cone
Sugar Cane
Crossy
Crowny
Facebook
Glasses (OCraziness)
J
Map (OCraziness)
Milk
Moustache
Moustachio
Neon Donut
Pokeball
Potatoey
Cakey
Cup (OInvasion Reloaded)
Lego (OInvasion Reloaded)
Slingshot
Starbucks
3D Glasses
Awesome Face
Blueberry (OA)
Curtain
Feldspar
Flip Flop
Funnel (OA)
Gas Mask
Hairbrush
Mirror (OA)
Pac-Man
Plasma Ball
Pool Ball
Race Bib
Ranch Dressing
Rubik's Cube (OA)
Slot Machine
Spike
Spray Bottle
Make-Up
Pixelated Mushroom
Parasol
Baskety
Bathing Suit
Beach Ball (TBFDIWP)
Broccoli (TBFDIWP)
Dictionary (no relation to Book from BFDI)
Flasky (TBFDIWP)
Flight Helmet
Horn
Music Note
Pie (TBFDIWP)
Pipey
Rake
Rolling Pin
Rope
Scrolly
Snowflake (TBFDIWP)
Soccer Ball (TBFDIWP)
Stethoscope
Swim Trunks
Water Balloon
Certificate
Dollar (IOM)
Drumstick
Jeff
Lego Brick (IOM)
Musical Note
Perfume (IOM)
Seashelly
TNT (IOM)
Tree (IOM)
Troll Face
Cake (InanimateTV)
Cross
Blueberry (SB)
Bottle Cap
Cracker (SB)
Green Pentagon
Orange Pentagon
Round Square
A
Game Bot
Gumball Machine
Toxic Waste
Window (OIsland)
Doritos Loco Taco
Lamp (IO)
Treeye
Baby Bottle
American Flag
Butter (AW)
Candle (AW)
Cellphone
Dollar (AW)
Domino (AW)
Football (AW)
Ice Cream Sandwich
Jawbreaker
Lamp (AW)
Lemon (AW)
Lime (AW)
Lollipop (AW)
Pillow (AW)
Pizza (AW)
Rose
Stamp (AW)
Straw (AW)
Yarn (AW)
Snickers
Grape (SLOB)
Torch (SLOB)
Pizza (OL)
Bottle (PP)
Dollar (OInvasion Reloaded)
Grapefruit
Lamp (OInvasion Reloaded)
OJ (OInvasion Reloaded)
Phone (OInvasion Reloaded)
Barny
Black Spike Ball
Cherry (WOW)
Grape Juice
Lego (WOW)
Licorice
Meteoroid
Neutrony
Pluggy
Protony
Tacky
Tangeriney
9-Ball
Flashlight (OIsland)
Paint Bucket
Shield
Tree (OIsland)
Arrow
Gluestick (OPandermonium)
Pogostick
Tube
Waiver
WOF
Wand
Coin
OJ (OV)
Joystick (This is the Joystick from Object Crossovers)
Croquet Mallet
Ace
Bird Cage
Candle (BFDK)
Crown
Egg
Gold Brick
Painting
Plug (BFDK)
Silver Brick
Trash Can (BFDK)
Yarn (BFDK)
Firefly
Bin (Note: He's from Object Show 87)
Keemstar
Round Square
Celery
Chocolate
Coloring Book (BFAP)
Milk (BFAP)
Orange (BFAP)
Sausagey
Shampoo (BFAP)
Blender (WOTO)
Battery (AD)
Scripty
Soda (AD)
Extinguisher
Hearty (BFGP)
Ketchup (BFGP)
Mushroom (BFGP)
Orange (BFGP)
Rubber Ball (BFGP)
Snowflake (BFGP)
Dink Smallwood
Dooby Dummy
Kung Fu Fiunn
Omega Tiger Woods
Bread
Button (OInvasion Reloaded)
Elastic Band
Glasses (OInvasion Reloaded)
Notebook Paper
Water (OInvasoin Reloaded)
WAW
Window (OInvasion Reloaded)
Windows 7
Apple Drop
Bowling Ball (BFAP)
Cookie (BFAP)
Cup (BFAP)
Face
Hand
Joshua (BFAP)
Mapy
Orange Gelatin
Ruler (BFAP)
Sapphire
Shirt
Toothbrush (BFAP)
Waffle (BFAP)
Win Token (BFAP)
Goal Post
Boomerang (Note: He's from Battle of Objects)
Atom
Chess Piece
Glidey
Sushi (Note: This is the Super Lifeless Object Battle Sushi, not the Inanimations Sushi)
Tether Ball
Outlet
Box of Crayons
Coffee
Corn Dog
Lollipop (IO)
Tower
Ice
A (TAGS/WOW RC)
Oven
D.A.R.E. Badge
Envelope (AD)
Hammer (AD)
Flag (AD)
Journal
Log
Pearly (AD)
Ruler (AD)
Trashy
J (TAGS/WOW RC)
N
Z (TAGS/WOW RC)
Bacon
Blue Pillow
Butter (BFF)
Coffee Bean
Hourglass (BFF)
Pillow (BFF)
Pom Pom
Wand (BFF)
Whiteboard
Cup (IO)
Cuppy (IO)
Globe (IO)
Magnifying Glass (IO)
Racket
Rainbow (IO)
Remote (IO)
Starry
Cup (OMadness)
Daisy
Bonk
Box of Crayons (AIR)
Pixar Ball
Ball
Beety
Pears
Sunny
Toxic Gas Producer
Red
Orange
Yellow
Green
Cyan
Blue
Purple
Pink
Fushica
Brown
Gray
Ball (IO)
Blue Rectangle
Clear Ball
Controlly
Diamond
Extinguisher
Icicle
Nosey
Poptart (IO)
Phone (IO)
Waffle (IO)
Wallet (IO)
Battery (ABC)
Blue Texta
Cloud (ABC)
Credit Card (ABC)
Curtains
Dot
Dynamite
Greena Texta
Kettle
Mechanical Pencil
Plug (ABC)
Pogo Stick (ABC)
Quartz
Sapphire (ABC)
Speaker (ABC)
Stick (ABC)
Teddy Bear (ABC)
Xylophone (ABC)
Christmas Decoration
Wings
Yellow Texta
Yoghurt
Cosmic Brownie
Brown Square
CD Case
Crown (BFAP)
Trash Can (BFAP)
Torpedo
Whiteboard (BFCI)
White
Cream
Lemon (CO)
Yellow (CO)
Orange (CO)
Medium Red
Red (CO)
Maroon
Brown (CO)
Pink (CO)
Fuchsia
Magenta
Lavender
Blue (CO)
Purple (CO)
Cyan (CO)
Teal
Mint (CO)
Lime (CO)
Green (CO)
Gray (CO)
Light Gray
Black
Hot Air Balloon (Polarjack77)
Traffic Light
Apricot
Bus Stop Pole
Cosmic Cupcake
Flower Grassy
Fuchsia Top Hat
Green Bubble Wand
Green Rocky
Red Bubble Wand
Yellow Bubble Wand
Goal Post (OITS)
Jellybean (OITS)
Landmine
Scepter
Slushie
Whiteboard (OP)
Yin-Yang-Bomby
School Blazer
RCs (Recommend your Character in the comments)
Crystal (requested by Bfdi is the best) (Episode 1)
Crayon (TTN) (Episode 1)
Other Characters (Characters who are not Staff Members, Contestants or RCs)
Bone (Note: This is the Bone from Next Top Thingy, and not the Bone from Objects at War) (as seen in his original form in Episodes 6 and 7, he returns as a zombie in Episode 14.)
Episodes
Cash Ladder
1st - $25,000,000 (Top Prize)
2nd - $10,000,000
3rd - $7,500,000
4th - $5,000,000
5th - $2,500,000
6th - $1,000,000
7th - $500,000
8th - $250,000
9th - $100,000
10th - $75,000
11th - $50,000
12th - $25,000
13th - $10,000
14th - $7,500
15th - $5,000
16th - $2,000
17th - $1,000
18th - $500
19th- $250
20th- $100
21st - $75
22nd - $50
23rd - $25
24th - $10
25th - $5
26th - $2
27th-100th - $1
101st or lower - Nothing
Teams (Must be at least 375, it's up to me to pick teams, but you can go in the comments and help me fill in if you want)
Squishy Cherries (Orange (OI)'s Team/Team A)
Orange (Captain)
Watermelon
Banana (SOB/OLD)
Pen
Eraser
Blocky
Snowball
Marker (IDFB)
Gumball (OI)
Bomby
Soap
Baseball (II)
Nickel (II/BFDIA)
Suitcase
Balloon (II)
Candy (OO)
Popcorn
Berry
Box (II)
Microphone (II)
Knife
Tennis Ball
Golf Ball
Rocky
IPod
Mirror (OH)
Basketball (OH)
Blueberry Juice/BJ
Lexicon
Glasses (MI)
Teapot
Football (OMadness)
Coiny
Chicken Bucket
Top Hat
Dress
Skirt
Fan
Test Tube
Ping Pong Ball
Disc
Pearly
Tomato (TSFTM)
Cherry (TSFTM)
Plate
Spongy
Eggy (BFDI RC)
Needle
Plank
Box (CTW)
Baseball Cap
Boat
Domino (NTT)
Baguette
Bubble Wand
Tree (BFDI)
Stick
Grassy (BFDI)
Sandwich
Pepperoni
Tornado
Speaker
Surround
Blue Raspberry
Grape Juice
Gum
Plug
Cherry (WOW)
Tangeriney
Lollipop (OIsland)
Scrolly
Flasky (TBFDIWP)
Notepad
Sawbby
Button (OIR)
Cup (OIR)
Glasses (OIR)
Squashy Grapes (Cupcake (TTW)'s Team/Team B)
Cupcake (TTW) (Captain)
Cup (OI)
Fanny
Crayon (OO)
Pencil
Match
Book
Ice Cube
Ruby
Bubble
IPad
Television
Yellow Spider
Burrito
Naily (IDFB)
Umbrella (SOB/OLD)
Can
Credit Card (OM)
Casey
Cracker
Gold
Binder
Wheel (OH)
Ice Cream (OU)
Gamey
Circle
8-Ball
TNT
Apple Juice/AJ
Peanut
Baseball (OU)
Banana (II)
Hammer (OH)
Bugspray
Sunscreen
Candle (BFIS)
Shampoo
Conditioner
Remote (OI)
Ford Logo
Mii U
Taco (BFDI)
David
Cookie (II)
Bullet
Popsicley
Trophy (II)
Paintbrush
Waffle (NTT)
Chocolatey
Ruby (BFDI RC)
Beaker
Ruler (AA)
Cleaver
Wheely
Yoyleberry
Dime
Microwave
Lava Lamp
Another Name (Bomb's Team/Team C)
Bomb
Puffball
Yellow Face
Orange Juice/OJ (II)
Paper
Salt
Pepper
Pickle
Taco (II)
Limey (SOB/OLD)
Bowling Ball (BFIS)
Police Hat
Oreo
Quadratini
Lighter (OO)
Latte
Donut (BFDI)
Pop-Tart
Cough Drop
Tack
Pin
Firey
Leafy
Teardrop
Sun
Remote (BFDI)
Eye Drops
Woody
Napkin Dispencer
Melon (CTW)
Clock (BFDI)
Pie (IDFB)
Button (OM)
Waffle (BFDI)
Yin-Yang
Pudding Cup
Fire Axe
Football (OT)
Grassy (SOB/OLD)
Lollipop (OP)
Gelatin
Dora
Brick
Tongs
Pinecone
Breadcrumb
Gluestick (AA)
Potion Flask
Toothbrush (TOMGR)
Strawberry (TOMGR)
Dark Hat
Trivia
Object Ultraverse is made with Kingsoft Presentation, a computer program that is very similar to Microsoft PowerPoint.
Not only there's characters from object shows (such as Battle for Dream Island, Inanimate Insanity and Object Overload), but there's also OCs from different users (such as NLG343, MassachusettsFan, Undhee and even BrownFamily1108 himself).
Not only regular characters play, but RCs (such as Eggy (BFDI),  Remote (BFDI) and Poptart) are in it too.
Not characters from popular and well known object shows from everyone in the community (included the famous ones like TheTGrodz or XanyLeaves), but also crappy object shows/camps (such as Objects at War and Random Object Battle Royale) too.

However, this excludes The Object Show of Doom and Shape World, because The Object Show Of Doom and Shape World are really horrible shows. OAW, ROBR and WOTO didn't look nearly as bad.

Originally, Pine Tree was not going to be in this, but I finally found an asset of him.
Boombox (OO) is a female in this show, just like in the reboot of Object Overload.
Mad Box was going to be in this, but he got cancelled out due to him being a huge jerk. Because of this, Washington Monument is a prankster on this show.
Dora is voiced by the Spanish Google Translate Voice. (Sped up 2x)
All the characters used BFDI Assets, but assets from II and other object shows are used every once in a while.
Episodes 6 and 7 are two parts but in an episode each.
Grape (TOMGR) is the first male to get a voice and a pose.

He was also the second contestant to get a pose.

Nail (OH) is the first female to get a voice and a pose.

She was also the very first contestant to get a pose.

Like Object Multiverse and Object Crossovers, most antagonists act less villainous or not act villainous at all.

Unlike Object Redundancy, and Last Object Standiing, the profanity will be censored, because profanity is mean.

In Episode 12, all the female characters (expect for Dora, Evil Leafy and Robot Flower) get eyelashes, even if Bow, Glasses, Crayon (MI), Lip Gloss, Dress, Skirt, Paint Palette (SOB/OLD), Tulip, Hourglass, Wells Fargo Center, Violet, Potion Flask, the female TBFDIWP characters (such as Bathing Suit and Flasky (TBFDIWP)) and Shampoo (BFAP) already have eyelashes. And not only just that, but other things change a bit too.

Also in Episode 12, The Numbers in the thumbnails are different, Episodes 1-11 use colorful numbers, Episode 12 and future episodes will use black numbers on a colored circle. The font is different too.

In Episode 21, the thumbnails change with a character in a background, also the with the Object Ultraverse Logo and a new font for the numbers.
Dink Smallwood, Dooby Dummy, Kung Fu Fiunn and Omega Tiger Woods are added for fun. because I like MUGEN.
N was the beta of Arch, but I used them both.
School Blazer was added in 2018.
Thumbnail Gallery
Main Thumbnails
Fan Thumbnails