Pepper



Gender

Female

Team

Acrimania

Rank

Unknown

Friends

Enemies

Color

Black, Gray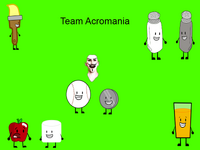 Pepper, labeled BCFF #1, was a female contestant on Inanimate Insanity. She was a member on Team Chickenleg.
Personality
Pepper's personality is almost identical to Salt. While Pepper is more caring in their relationship, Salt cares more for herself than Pepper, and actually replaces her when she is eliminated. She appears to care about doing challenges, as she asks about them frequently, unless they conflict with maintaining her relationship with Salt. Pepper overall has a nice ditzy girl personality, saying things like "like" between sentences.
Fan fiction
Human Names
Perrine Archambault (BluJayPJ)
Patricia Perkins (NLG343)
Pamela "Pam" Johnson (KittyFan2004)
Patia "Rusbela" Speed (GameboyNextGeneration)
Patricia Martin (Opinduver)
​Trivia
Pepper is almost identical to Salt. However, Salt cares for herself more than Pepper, and even replaced her when she is eliminated.
Even knowing that her best friend Salt has a crush on OJ, she hates him.
She is the lowest ranking female contestant in II.
Her design changed in season 2.
Gallery