Rubber Band Ball
is an oc made by
User:Yellow-spider-kitty
.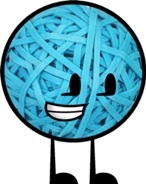 Rubberbandball

'

Gender

Female

Team

Team ding

Rank

unknown 35(OA)

Episode eliminated

TBA

place

TBA

allies

Everyone except enemies

enemies

Spike Bed, Gold Medal, Ice Cream (OU)
Trivia
She was on BFIS episode two (and yes idyemyhairpink33 is ray hogaland).
She was also on AI.
She seems to hate the OU Ice Cream.
Gallery
Ad blocker interference detected!
Wikia is a free-to-use site that makes money from advertising. We have a modified experience for viewers using ad blockers

Wikia is not accessible if you've made further modifications. Remove the custom ad blocker rule(s) and the page will load as expected.